The best way to describe Guitar Hero II, if you've played the first game, is to say that everything's better except the songs.
I've beaten the game on Hard, which is right at my sweet spot for Guitar Hero--on Medium I play notes when I'm not supposed to, and Expert is so hardcore that you'd really be better off learning to play the instrument itself. Hard is close enough that I can enjoy the illusion of actually playing along without too much stress. And Harmonix has done a good job of addressing the little frustrations of the first game, with easier hammer-ons and pull-offs (they were originally unrealistically difficult) and a much-needed practice mode. The addition of encores is a cute touch, and the game itself looks better.
So if it weren't for the songlist, the GH2 experience would be a lot higher. But you get the feeling that all the really inspired choices were picked up for the original, and now you're sorting through the leftovers. There are moments of genius, especially "Tonight I'm Gonna Rock You Tonight," "Sweet Child O' Mine," and "Jessica." On the other hand, "Killing in the Name" is a monstrosity, and "Institutionalized" a disaster. It's a much more uneven playlist. The other song criticism is the production--sometimes the other parts of the band are very soft and difficult to hear--although that could be my sub-discount TV at fault.
None of this stops Guitar Hero II from being one of the best games of the year practically by default. You still can't go wrong with this game, especially as party entertainment or for aspiring musicians. I can tell that I'll definitely keep playing through it just for the experience, as I did with its addictive predecessor. If I had to choose this game or the original, it'd be a tough call--beginners might want to start with GH2 for the responsiveness and training options, and graduate to the original when they really want to bring the Rock. And the sooner Harmonix decides to use this improved engine for more selective themed or genre song packs, possibly including songs from the first game, the better.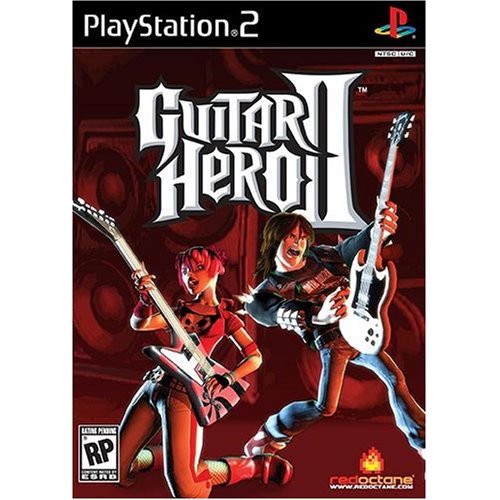 Best girlfriend on the planet, yes?
What I have found, when picking up Guitar Hero again, is that I most enjoy playing it on Hard difficulty, the next-to-highest. I can play the game on Expert--I've almost beaten it there, in fact--but I don't usually enjoy that much. Expert is insane. I am pretty sure that it is actually easier to play most songs on a real guitar than to play them on Guitar Hero's expert mode.
I loaded Guitar Hero back onto Belle's PS2 this weekend for a housewarming party, in case we needed something to do. I wanted to have all the songs unlocked for people to play. It turns out that we had 24 people in our tiny little apartment, and we didn't need the entertainment after all. But it was fun to pick up the plastic SG again. Note that I didn't unlock new guitars, or new characters. There's not really much point. They don't do anything except look pretty. Normally, those kinds of pointless unlockables bother me. But here, I don't really care.
Guitar Hero's real strength is that its fun doesn't rely on the characters or guitars. They don't do anything. Your reward for playing Guitar Hero is being able to play more Guitar Hero. This will never happen, of course, but I think I'd like to see the sequel with all the songs unlocked at the start of the game. It would make it easier for my friends and I to just jump into the game, and it would remove the silly system of rewarding people for struggling with a plastic guitar on difficulty levels where they're not necessarily having fun. I wouldn't mind having to work my way up through different venues in career mode. But it'd be nice to pick my own set list.