My B-SPAN coworker and I were talking about job interviews the other day. We're both on our way out of the Bank this year, and we recently finished going through the interview process for replacements. It was, as I've said before, a really educational process to be asking questions instead of answering them. My coworker, who I think ended up in the Bank practically straight out of college, asked what my worst interview had ever been.
So I was working at the American Diabetes Association my last year of school. It had its high points (my coworkers were good people who liked me) and low (the pay was terrible, the work itself was tedious). I started looking late for anything that would pay me to write, even though I had little in my portfolio at the time. Three months later, although I didn't know it, I'd be working at the Bank doing office work as a temp, a gig that eventually gave me an in for my far-more-satisfying position at WBI. In any case, while at the ADA, I got a call back from a wild resume submission I'd made: a high-end chocolate/confectionary supply catalog located in Rockville, Maryland. Taking an afternoon off, I drove up the beltway to go to the interview.
I hate driving in Maryland anyway. The state's department of transportation takes a sadistic glee in placing street signs behind trees, buildings, and other signs, making it hard to find where you're going. And Maryland drivers are, for one reason or another, among the worst on the face of the earth. Anyone who lives in Northern Virginia for long is familiar with the experience of watching someone do something truly boneheaded in traffic, invariably accompanied by a set of Maryland plates. So I was already nervous when I pulled up to the offices. They were located in a run-down commercial district that looked like a neutron bomb had hit, although inside they were quite nice. Since I was early, they sat me down with a copy of the catalog to look over--it was one of those pretentious "catalog with interviews," like a Skymall for people who need 50 pounds of sculpted, pulled sugar ribbons.
Finally, they called me into the interview room, and a harried-looking man sat down across from me. He introduced himself as the manager, and then he cut right to the bone.
"Why are you here?" he asked.
Now, I confused this with a standard interview question, like "Why do you think you should work for us?" I had a prepared joke ready for it. "Well," I said, "according to your web site, you're importers for the best Swiss chocolate in the world. Why wouldn't I want to work here?"
No laughter from the interviewer. Awkwardly, I segued into an explanation of how I wanted to be a journalist, and while they weren't doing news writing per se, I thought it would be an interesting place to build experience. And besides, I said, although I'm not a chef myself, I do love food.
The man looked at me. "I just don't understand," he said. "I've looked over your resume, and you don't have any experience with the food industry. I don't understand why you're here, since you're not qualified."
Then why did you make me drive up for an interview? The whole thing lasted about five minutes. And that, ladies and gentlemen, is the worst interview I ever had. It's too bad. I think I would have been good at it.
File under self-promotion: because a large portion of my work at the World Bank Institute has moved over to audio production, I've added a section to my portfolio for audio. It includes a podcast and the musical intros I posted a few days back, but also a radio show that I produced which will be broadcast by satellite to all of Africa. I'm currently involved in another of those radio programs, albeit more as an engineer, and I'll be doing production on the video tutorials for the GDLN's new Event Management System. It's been very busy lately.
When I left college, I wanted to go work for NPR. Of course, I was naive and hadn't had time to build an audio portfolio, so I got no response to my inquiries. My hope is that after this year's contract with the World Bank, I'll have a collection of writing and audio that will let me move into full-time journalism in print or on the radio--probably not at the level of NPR, but higher than freelance on the food chain.
On the other hand, my division manager wandered by the other day. She's a short, pleasantly blunt German. "How's business?" she asked, and I allowed that business might be fine. "I keep hearing your voice on things," she said, adding "It sounds good. We can't allow you to leave here." I think she was joking.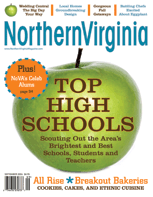 I contributed two sections of Northern Virginia Magazine's "The Future Is Bright" article. My profiles of Debbie Goforth and Jessica Ray are on pages 88 and 91, respectively. Probably not worth a six-walk block in the rain to pick it up if you don't need the clippings for your files (i.e. me). As far as I can figure, NoVA did pay me for the drunk driving article, but has yet to run it.
Also, the Animal-Crossing-Meets-Marx got a mention in USA Today's Tech_Space blog. She writes: "... Animal Crossing, about which I've heard so much and about which Mile Zero posted so entertainingly last week." Entertaining? I thought I was just trying to fill the remaining 294 megs on my server!
I have an article up for the Government Solutions center at AIIM - The Electronic Content Management Association (formerly the Association for Information and Image Management). It's on local government record-keeping, which is not terribly exciting but not terribly strenous either. I know it's kind of a weird thing for me to cover, but this is one of the contacts I made at the mediabistro event, and I figure a little business reporting experience never hurt anyone. You can find it here, but you might have to register in order to get to it. I won't be offended if you don't.
Jessica looks innocent enough: blond, early twenties, pretty but not blindingly so. But underneath that facade is a criminal still under probation. She can't drive a car, miss work, or even leave the state without permission. Jessica (not her real name) isn't a murderer, or a thief. She's just one of the many Virginia residents who were caught drinking and driving--and under Virginia's increasingly harsh DWI laws, she's paying dearly for that mistake.
According to the Virginia State Police, almost 25 thousand drivers were arrested for driving while intoxicated in 2005, and a similar number will probably be arrested this year. Even more tellingly, Northern Virginia is a hotspot for these arrests, because it's more populated and easier to police. Fairfax County alone accounts for more than ten percent of the state's DWI arrests each year. When the flashing blue lights urge them to the side of the road, many drivers may not be prepared for the cost they'll pay--a proper cost, many would argue, since drunk drivers are a danger not only to themselves but also to others on the road. Whether the current laws are appropriate or not is out of my purview. But anyone who risks getting into a car with even the slightest amount of alcohol in their system should know what they might be facing if they get caught.
A cautionary tale, soon to be printed in Northern Virginia Magazine (although I'm not sure exactly when). And with that, I am out of freelance assignments. My next goal is to publish in Washingtonian and City Paper. If anyone has any great DC stories, let me know.
With the issue off the shelves for at least a couple weeks now, I can add my NoVA Magazine piece to my online portfolio, ThomasWilburn.net. It's in the Writing section, or you can just click here. There's also an option to read it as a scanned .pdf, so you can see how it originally appeared in the magazine--handy if you're not actually in the Northern Virginia area. I think it looks good, myself, but I have to admit I'm a bit biased.
Sadly, I may have lost the original .txt copy of the other article in that issue, my interview with the ROCS Staffing founders. Since it is mostly just them speaking, and not so much my own words, it's not terribly critical--but when I get a chance, I'll scan and capture it (retype, if necessary, it's not very long).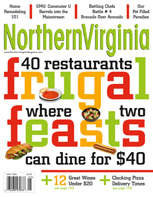 It took a while, but it's a cover story--if by cover story we mean one of those little blurbs at the top of the cover, and I DO.
Actually, there are two of my pieces inside:
GMU's ROCS Stars, page 26-27
Not Your Mother's Mason, page 30-33
I just picked up my copies at lunch from the Borders on L Street. It's such a rush to be back in print.
Man, this hit close to home.
Just finished interviewing these guys for NoVA Magazine. They're younger than I am, but their business (a staffing agency for students, by students) is a great idea in an area like this where good internships and experience can be hard to come by.
Here's the reason for such light posting lately, to be printed in full in Northern Virginia Magazine:
"Any idiot could have come here and it would have prospered," chuckles former George Mason University president George W. Johnson, "and according to some people, some idiot did." Johnson's self-deprecating cheer is infectious, but it's tempered by the success he fostered at GMU, success that hardly seems to have slowed down. Today, it is home to two Nobel winners and a Pulitzer recipient, a school of law led by Robert Bork, and has become practically synonymous with the cutting edge of Austrian economics. At more than 29,000 enrolled students in 60 undergraduate and 87 graduate programs, GMU has become an impressive education landmark of Northern Virginia. It's been ranked in to top schools of the East Coast by the Princeton Review. More impressive is the fact that it's been an independent four-year school for less than 35 years, a flash in the pan compared to other Virginia schools like William and Mary (est. 1693), University of Virginia (1825), and Virginia Tech (1872).
George Mason University's story is tied inextricably to the region it calls home. As the area grew and prospered, Mason grew with it in a symbiotic relationship. Thanks to its pioneering economic work, Mason may now be known as the Virginia school, but a better name might be the Northern Virginia school...
Unless something changes, you'll find it in the April issue--albeit probably a bit shorter than its current 1671 words.