I have an article up for the Government Solutions center at AIIM - The Electronic Content Management Association (formerly the Association for Information and Image Management). It's on local government record-keeping, which is not terribly exciting but not terribly strenous either. I know it's kind of a weird thing for me to cover, but this is one of the contacts I made at the mediabistro event, and I figure a little business reporting experience never hurt anyone. You can find it here, but you might have to register in order to get to it. I won't be offended if you don't.
Jessica looks innocent enough: blond, early twenties, pretty but not blindingly so. But underneath that facade is a criminal still under probation. She can't drive a car, miss work, or even leave the state without permission. Jessica (not her real name) isn't a murderer, or a thief. She's just one of the many Virginia residents who were caught drinking and driving--and under Virginia's increasingly harsh DWI laws, she's paying dearly for that mistake.
According to the Virginia State Police, almost 25 thousand drivers were arrested for driving while intoxicated in 2005, and a similar number will probably be arrested this year. Even more tellingly, Northern Virginia is a hotspot for these arrests, because it's more populated and easier to police. Fairfax County alone accounts for more than ten percent of the state's DWI arrests each year. When the flashing blue lights urge them to the side of the road, many drivers may not be prepared for the cost they'll pay--a proper cost, many would argue, since drunk drivers are a danger not only to themselves but also to others on the road. Whether the current laws are appropriate or not is out of my purview. But anyone who risks getting into a car with even the slightest amount of alcohol in their system should know what they might be facing if they get caught.
A cautionary tale, soon to be printed in Northern Virginia Magazine (although I'm not sure exactly when). And with that, I am out of freelance assignments. My next goal is to publish in Washingtonian and City Paper. If anyone has any great DC stories, let me know.
With the issue off the shelves for at least a couple weeks now, I can add my NoVA Magazine piece to my online portfolio, ThomasWilburn.net. It's in the Writing section, or you can just click here. There's also an option to read it as a scanned .pdf, so you can see how it originally appeared in the magazine--handy if you're not actually in the Northern Virginia area. I think it looks good, myself, but I have to admit I'm a bit biased.
Sadly, I may have lost the original .txt copy of the other article in that issue, my interview with the ROCS Staffing founders. Since it is mostly just them speaking, and not so much my own words, it's not terribly critical--but when I get a chance, I'll scan and capture it (retype, if necessary, it's not very long).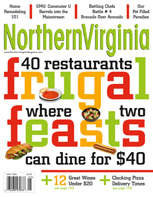 It took a while, but it's a cover story--if by cover story we mean one of those little blurbs at the top of the cover, and I DO.
Actually, there are two of my pieces inside:
GMU's ROCS Stars, page 26-27
Not Your Mother's Mason, page 30-33
I just picked up my copies at lunch from the Borders on L Street. It's such a rush to be back in print.
Just finished interviewing these guys for NoVA Magazine. They're younger than I am, but their business (a staffing agency for students, by students) is a great idea in an area like this where good internships and experience can be hard to come by.
Here's the reason for such light posting lately, to be printed in full in Northern Virginia Magazine:
"Any idiot could have come here and it would have prospered," chuckles former George Mason University president George W. Johnson, "and according to some people, some idiot did." Johnson's self-deprecating cheer is infectious, but it's tempered by the success he fostered at GMU, success that hardly seems to have slowed down. Today, it is home to two Nobel winners and a Pulitzer recipient, a school of law led by Robert Bork, and has become practically synonymous with the cutting edge of Austrian economics. At more than 29,000 enrolled students in 60 undergraduate and 87 graduate programs, GMU has become an impressive education landmark of Northern Virginia. It's been ranked in to top schools of the East Coast by the Princeton Review. More impressive is the fact that it's been an independent four-year school for less than 35 years, a flash in the pan compared to other Virginia schools like William and Mary (est. 1693), University of Virginia (1825), and Virginia Tech (1872).
George Mason University's story is tied inextricably to the region it calls home. As the area grew and prospered, Mason grew with it in a symbiotic relationship. Thanks to its pioneering economic work, Mason may now be known as the Virginia school, but a better name might be the Northern Virginia school...
Unless something changes, you'll find it in the April issue--albeit probably a bit shorter than its current 1671 words.