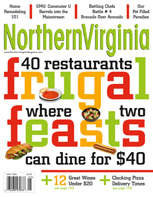 It took a while, but it's a cover story--if by cover story we mean one of those little blurbs at the top of the cover, and I DO.
Actually, there are two of my pieces inside:
GMU's ROCS Stars, page 26-27
Not Your Mother's Mason, page 30-33
I just picked up my copies at lunch from the Borders on L Street. It's such a rush to be back in print.