April 17, 2013
The Cruelty of One's Early Thirties
Normally, I try to have something written and posted here by Wednesday night each week, because I feel like that's the minimum I can write and still call myself a blogger. This week, unfortunately, between writing my textbook (highly recommended!) and trudging through Bioshock Infinite (not at all recommended!), my right wrist is probably in the worst shape it's been in for about five years now. To recover, I'm giving myself the week off from computers outside of work.
I figure you don't really need to know this, but if I write it up here, I'm more likely to stick to it.
While I'm complaining, my knees hurt and these kids won't stay off my lawn.
October 18, 2012
idclev
I went back and forth on a number of ways to write this up, and eventually decided to just keep it simple: on Monday, I'll be starting a new position on the web team at ArenaNet, developers of Guild Wars 2.
It's funny: I've never actually played Guild Wars or its sequel. They're not really my bag (although I guess I'll have to spend some time in them, now). But ArenaNet, like all MMO developers, generates a terrific amount of data from its simulated world, and I find that potentially fascinating. Along with typical web development (and non-typical--GW2 uses an embedded WebKit view for a number of in-game functions), I'll hopefully be taking a crack at ways to expose and visualize that data for players. I'm looking forward to it.
June 1, 2012
Play It Cool
Did you know? If you buy a fan for a laptop, you should make sure to get the right one for the machine, so your video card doesn't start shutting down at 105° C (hopefully before causing permanent--and expensive--damage).
Back in a bit.
April 26, 2012
Delayed on Account of Soul
Soul Society, that is. Back next week.
April 4, 2012
School In Session
This week, once again, I'm starting a new quarter of teaching at Seattle Central Community College, for Intro to Programming and Intro to JavaScript. If you're one of my students looking for my class materials, or if you're just interested in what I'm teaching, head over to my SCCC portal and check out the classes and the new student forum.
February 5, 2012
UA All Day
While I've been waiting on my background check to clear for new day job, when I'm not teaching and/or working on lesson plans, and clearly in lieu of blogging, I've been working on improving the Urban Artistry web site. A lot of it has been rearranged and re-written, with the goal of making it punchier, with stronger calls to action on every page. It's also mobile-friendly, has more modern CSS, and removes about 6 years of accumulated detritus.
The other big initiative I've been working on for UA since the new year is this year's International Soul Society Festival. Last year's Soul Society page was a last-minute effort--we got the job done despite short deadlines and unreliable resources. This time, I wanted to fix some of the problems it had with print-oriented design, with mobile, and with being a high-maintenance, single-page site.
If you're in the DC area come late April, Soul Society is the place to be. Last year's festival had popping and b-boy battles, all-styles cyphers, great music and art, and some incredible judges' exhibitions. I'll be heading back to Virginia to attend myself. Hope to see you there!
May 3, 2011
Seattle Freeze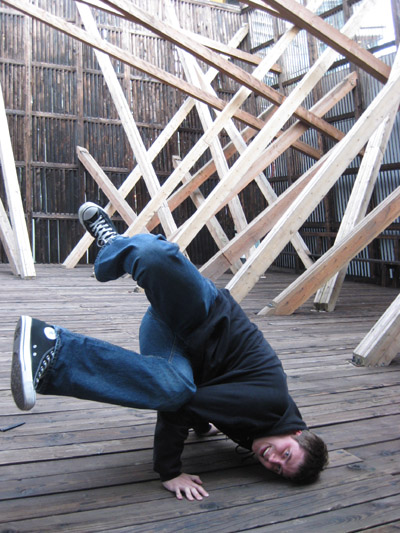 On vacation in the Pacific Northwest. Back next week.
June 28, 2010
idnoclip
I woke up this morning to hear that Robert Byrd had died, and that I needed to fix the timeline we had made of his life. As I logged into the VPN, the screen went oddly pink and blue, like Doom's old Hall of Mirrors effect if you cheated your way out of a valid sector. Then it went black, and then it refused to boot to anything but an external monitor in Psychedelic Snow VGA Mode. The video card, it would seem, is fried. Luckily, I'm just barely within the three-year extended service plan (good until August!), so Lenovo is sending a box and will fix it for no extra cost. But I'll be without hardware for probably three to five days.
I've been on a vaguely weekly schedule here for a while now, so I figure going quite for another week won't shock anyone too much. I had planned, starting today or tomorrow, to write my one-year look back at b-boying, but it looks like that will have to wait. I'll also have to hold off on playing through more of Planescape: Torment, which is too bad since it was just starting to get pretty good, and I'm looking forward to rambling a little on its relationship with death and meta-gaming when I get a chance. And finally, I hope I've gotten the database bugs straightened out on NPR's client now, because it'll be a lot harder to debug and fix them on my lunch hour at work. Still, it's not all bad: forced breaks like this are no doubt good for my tendonitis, and maybe it'll give me some extra incentive to drill footwork for Crafty Bastards if the heat lets up. Here's to a productive week, and a speedy return of my soon-to-be-repaired Thinkpad.
December 28, 2009
Promotional Material
Happy holidays! Between festivities and the blizzard, it's been almost two weeks since I wrote here, but posting has been slow for several months anyway. The main reason is that I've been increasingly busy at CQ as the new Multimedia Team Leader since the end of November. As such, I'm responsible for directing the team's choice of technology, projects, and long-term strategy. It's a nice step forward for me professionally, but it eats up a lot of time and mindshare that might have normally gone into blogging.
I don't believe, as many journalism-watchers do, that print is dead. On the contrary, I think it's possible to argue that print retains an audience capable of supporting newspapers, just not at the same elevated level of profit that was once routine for the industry. But as someone who self-identifies as a "new media" journalist, my primary focus is the organizational transition toward a print-online hybrid journalism, with the eventual goal of moving entirely online as print inevitably becomes untenable. The Multimedia Team Leader is an opportunity for me to more directly play a role in that process, one that I'm sure will prove both frustrating and exciting in turn.
As for Mile Zero, rather than beating myself up over the frequency of updates, I'm going to a more relaxed schedule--slightly meatier posts once or twice a week, hopefully. I'm also going to try tweaking the subject matter a bit--I feel like it's gotten a bit review-ish lately, and that's not a place I really want to be. Anyway, pardon the digression, and thanks for reading. Here's to 2010!
December 2, 2009
Flowers in our hair? Check.
Gone to San Francisco. Back next week.