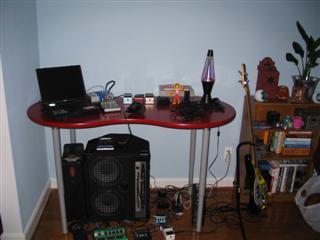 The new apartment is getting closer to its final unpacked state, and while Belle has taken charge of themes and decorations for most of it, I do get this little corner for my home studio. I've got a giant clock face to mount above it. Groovy.
So here's what I'm tracking with nowadays, from left to right:
Laptop loaded with Cubase SE and an assortment of free software and programs. It's all low-end stuff, but I make pretty low-end music, and it's a big improvement over a four track.
Tascam US-122 interface running into the laptop for tracking bass and vocals. I didn't have the mike assembled in this picture (it's next to the lava lamp), and I still need another XLR cable to run from the bass amp's DI.
Behringer Eurodesk 502 mixer, for my random mixing needs. I don't do this much, but I guess if I needed to reamp through an effect that I don't have in software, this would be a good way to do it.
GK400RB amp for the bass. This is my second real bass amp, and I like the sound of it okay--but I really bought it for the volume and the portability. My old 1x15 amp was a nightmare to carry.
Unused effects pedals: a Boss Chorus (not the bass version), Digitech Bass Driver (great distortion pedal), and Boss Auto-wah (never really happy with the sound of it). I'm thinking of hooking these three together for a bass synth kind of sound. I used to use the Bass Driver as my full-time distortion, and it really does do stunning imitations of an SVT, a ProCo Rat, or a digital fuzz, but it sucks a nine-volt dry in forty minutes, and I hate plugging in my pedals. And because it does so many things, I always found myself spending more time playing with it than actually making music. I'm more productive with fewer options.
Current effects lineup on the floor consists of a Line 6 DL4 for looping, MRX M80 Bass DI, and DOD FX25B Envelope Filter (boosted through a Boss LS-2). The MXR is a really great pedal--it has two preamp channels, one clean and the other distorted. The clean adds a lot of lows and low mids, almost Stingray-esque. The distortion is typically pretty fuzzy, but I've found a setting I like and just leave it there.
Rolls DI box, mostly used nowadays at open mikes.
NES, waiting for me to pick up a midi keyboard and one of those synth cartridges.
Lava lamp. Very important.
And of course, the All-Star bass.