May 26, 2016
Speaking schedule, 2016
After NICAR, I wasn't really sure I ever wanted to go to any conferences ever again — the travel, the hassle, the expense... who needs it? But I am also apparently unable to moderate my extracurricular activities in any way, even after leaving a part-time teaching gig, so: I'm happy to announce that I'll be speaking at a couple of professional conferences this summer, albeit about very different topics.
First up, I'll be facilitating a session at SRCCON in Portland about designing humane news sites. This is something I've been thinking about for a while now, mostly with regards to bots and "conversational UI" fads, but also as the debate around ads has gotten louder, and the ads themselves have gotten worse (see also). I'm hoping to talk about the ways that we can build both individual interactives and content management systems so that we can minimize the amount of accidental harm that we do to our readers, and retain their trust.
My second talk will be at CascadiaFest in beautiful Semiahmoo, WA. I'll be speaking on how we've been using custom elements in production at the Times, and encouraging people to build their own. The speaker list at Cascadia is completely bonkers: I'll be sharing a stage with people who I've been following for years, including Rebecca Murphey, Nolan Lawson, and Marcy Sutton. It's a real honor to be included, and I've been nervously rewriting my slides ever since I got in.
Of course, by the end of the summer, I may never want to speak publicly again — I may burn my laptop in a viking funeral and move to Montana, where I can join our departing editor in some kind of backwoods hermit colony. But for right now, it feels a lot like the best parts of teaching (getting to show people cool stuff and inspire them to build more) without the worst parts (grading, the school administration).
December 22, 2015
Post-SCC Plans
Last Tuesday was my last day at Seattle Central College, and I turned in my grades over the weekend. If nothing else, this leaves me with 10-20 free hours a week. And while I'll no doubt spend much of that time watching movies, practicing my dance moves, or catching up on my Steam backlog, I do have some projects that I want to finally start (or restart) in my spare time.
Rebuild Grue: back when I was leaving Big Fish Games, I spent a couple of weeks working on a text adventure framework called Grue. The main goal of it was to make constructing interactive fiction in JavaScript as easy as possible. I think it was reasonably successful: a sample world is surprisingly readable and intuitive. It also got a bunch of things wrong (weird inheritance system, poor module setup). I'm planning on rebooting Grue in 2016, using ES2015 and a Node-compatible interface.
Upgrade Caret's find/replace functionality: A few months ago, in one of my rare open source success stories, a contributor added project-wide search to Caret — a much-requested feature for years now. Unfortunately, we're still stuck with the default Ace dialog for find/replace within a single file. This year, I want to pull that out and re-implement it as a Caret UI widget, which (among other things) will fix a number of regular-expression bugs.
Play music: Bass took a backseat to breaking when I started dancing a few years ago. These days, my fingers are noticeably slower on the strings than the used to be, which seems like a shame since I bought a really nice bass before we moved to Seattle. If I can find a laid-back open mike, I might resuscitate Four String Riot for a session or two.
Break the web: In a recent project at the paper, I started using the getUserMedia API to access the built-in camera from a web app. It turns out this is, apart from some weirdness and the need to polyfill, pretty great: you don't need native code to access the camera (of course it's not in Safari). Now I want to do some additional mini-apps that use other future-forward web APIs, like Service Worker and gamepads.
Write another book/article series: I've gotten a lot of really good feedback on JavaScript for the Web Savvy, both from inside my classes and by random readers around the Internet. Now that I have some time, I'd like to write another book, probably this time packaging up some of the lessons I've learned working in data journalism. I also want to pitch an article series that helps get people from the basics of web production up to more serious news app development.
Hacks/Hackers meetup: Finally, last year I took over the local Hacks/Hackers meetup group, but I've been too busy to organize anything for it. Now that I have the time to round people up and gather resources, I want to make good on my goal of holding a day-long event one weekend — either as a hack day or a training session of some kind. More details as I figure it out!
July 30, 2014
<link rel="post">
January 23, 2014
This Week
...is ridiculously busy. Class at SCCC has ramped up, I've been prepping for the University of Washington workshop, and of course I've got my everyday work at ArenaNet as well. In lieu of a more substantial post, here are some quick notes about what's on my plate.
June 19, 2013
Remember the Linkblog!
Obviously I've been a little obsessed with RSS the past couple of weeks (get used to it: it'll be everyone else's turn come July 1). Along the way, I've been trimming my subscription list: I've been blogging for more than nine years now (!), and collecting feeds for nearly as long. A lot of those URLs are now broken, which is a little sad. In a precursor to the whole Google Reader situation, if you were on Feedburner, there's a pretty good chance I'm not reading you anymore.
Speaking of things that people don't really do in a post-Twitter world, I was reminded this week that I need to post another set of links--not so much because anyone else is interested, but because between the dismal searchability of social media and the death of bookmark services like Delicious, it's the only way I can be sure to find anything more than three months from now. And so:
May 24, 2012
Learning the Hard Way
I've recently been recommending Zed Shaw's Learn X the Hard Way books for learning a variety of computer languages. I find these books, and the educational theory behind them, kind of fascinating. Shaw himself encourages other people to fork his project for new languages, and provides some advice on its structure:
The way to think of the book's structure is the first half gets them strong, the second half gets them skills. In the first half they're just doing push-ups and sit-ups and getting used to your language's basic syntax and symbols. In the second half they use this strength and grounding in the basics to start learning more advanced techniques and concepts, then apply them to real problems.
This is not a way that I particularly like to think about learning--my least favorite part of high school was doing drills in class. But in retrospect, what I hated was
drilling things I already understood
. I despised sentence diagramming because I already understood grammar--I didn't need to draw arrows above the subject-verb-object relationship. When it comes to new problems, I actually spend a lot of time on simple, repetitive practice, what Shaw calls "getting strong." The same seems to be true of most of my students, and that realization has dramatically changed the way I teach this quarter.
When I started learning bass, someone recommended a really good book on bass technique--not a book of songs, or a book on music theory, but just step-by-step foundation on how to hold the instrument and pull the strings without causing long-term physical harm. I spent hours just running through the most basic exercises: plucking strings with two fingers, then playing across strings, then muting unplayed strings. It was tedious, but whenever I play a looping arrangement (where unmuted strings would create "drone notes") and sing simultaneously, I'm glad I spent the time.
Likewise, I was reminded of this the other night at dance practice while talking to one of the other poppers about traveling. When I first started, I remember asking the teachers in class how they were able to combine movement across the floor with their isolations and waves--when I tried, it was too hard to keep both motions in my head, and one of them would collapse into awkward spasming. I wanted a "secret"--some kind of special technique that would let me skip the hard work. But that shortcut didn't exist: gradually I learned to travel while dancing only by working hard on each component individually and repetitively.
I'm proud this quarter that the examples, in-class exercies, and homework I've assigned for Intro to JavaScript have all been "real" work--my students have learned how to make basic slideshows, to filter and display data from CQ and the World Bank, and even how to imitate Paint.exe using canvas. I hope that they'll be able to leave the class and talk about what they've done in interviews, or use them as jumping-off places for other projects. But more importantly, I'm spending each class with students typing along with me, giving them feedback and drilling the basic skills of reading and writing code. They're learning the hard way, and so far, it seems to be working.
December 1, 2011
The Long Way Home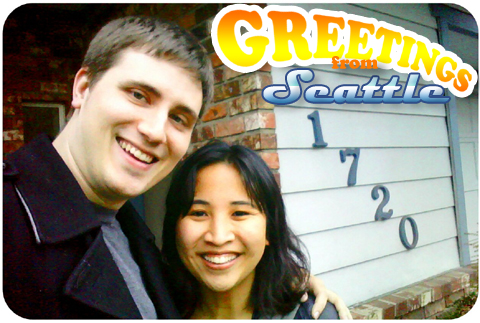 I'm writing from our new home, Seattle! We arrived at our new apartment yesterday, after a long, six-day road trip across the country with the dog and the cat in the back seat.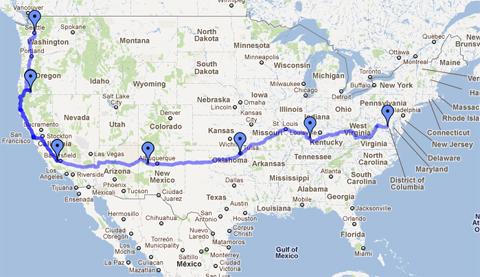 Turns out there's a lot of country between the two coasts. I wouldn't necessarily want to do it again, but it was neat to drive through parts of the United States that I'd never seen, like the deserts of New Mexico or the overwhelming flatness of Oklahoma, and to revisit a few, like my birthplace of Lexington, KY.
In any case, now we're just settling in, getting to know our new neighborhood, and waiting for the shipping containers to arrive with all our stuff. Regular blogging should return soon. Thanks for your patience!
October 24, 2011
Not A Sentimental Wedding Post
This weekend, Belle and I got married. It was a small, homemade, personal kind of wedding. Among the crafts we made was a "photo booth" consisting of my laptop running a bit of custom ActionScript and a box of very silly props. Unfortunately, we didn't have power and I'm not sure I had the screen saver all set up correctly, so some people may not have had a chance to take their pictures with it before the batteries died. If you'd like to give it a shot, feel free to download and install the Official Nerds Get Hitched Photo Booth (works on Mac or Windows, requires Adobe AIR). It'll take four pictures of you, then save them to a folder on your desktop. There's no quit button (it's a kiosk), but you can hit Escape to leave full-screen mode and then close the window.
This is a great case of what ActionScript (and the AIR platform that Adobe built out of Flex/Flash) does well: pair a better version of JavaScript with a comprehensive runtime library for exceptionally fast, easy multimedia production. I procrastinated on this project like crazy, but in the end it only took me a few hours of real work to create. Sure, we could have paid for software to do the same thing, but if it's so simple, why bother? And this way it's all under our control--it looks and acts the way we wanted it to look.
Anyway, feel free to install our photo booth and send us a picture. And thanks to everyone who came out to our little wedding celebration!
June 29, 2011
Dr. Linkenstein
February 24, 2011
The Bottom Link
Last week was the budget. This week is the leftovers.
I've developed an interest in correction tracking for new media lately, and there are two interesting developments on that front. Kurt at Ars Technica has debuted Copypasta, a tool for adding collaborative editing to any site. Mediabugs, on the other hand, is more of a centralized database of errors, and they just introduced a WordPress plugin for journalism blogs.
Know how we used to post corrections to blogs in the old days? The comments. Uphill, both ways. Now get off my lawn.
I don't know what's more terrifying: that they've actually finished Atlas Shrugged, The Movie, or that this is "part one." As always, we quote John Rogers:

There are two novels that can change a bookish fourteen-year old's life: The Lord of the Rings and Atlas Shrugged. One is a childish fantasy that often engenders a lifelong obsession with its unbelievable heroes, leading to an emotionally stunted, socially crippled adulthood, unable to deal with the real world. The other, of course, involves orcs.

Yeah, so maybe buying a Robocop statue for Detroit is not the best use of $50,000. But on the other hand, if you needed a great example of the ways that the Internet tends to privilege frivolous gestures over useful action, it's the best thing since OLPC.
Speaking of Detroit, it does actually have grocery stores. Some good thoughts on urbanization, corporate branding, and perceptions of poverty.
I complain a lot about the current state of rich HTML graphics: <canvas>, for example, is in the running for the worst API I've seen since the original DOM. If you're used to Flash's excellent display tree API, you may want to look into AS3 guru Grant Skinner's Easel.js library. Myself, I think it's still unclear that browser performance is there yet.
Android 2.3 ("Gingerbread") was just pushed out to my Nexus One. Right off the bat, the new power off animation cracks me up--it's basically the "shrink to a white dot" from very old CRT television sets. Of course, that effect was caused by the physical movement of the cathode ray gun inside the set, which has no equivalent in the LCD/OLED screens we use for almost everything today. It's like a comedy record-scratch: cultural artifacts that everyone recognizes more for semantic meaning than through any direct physical experience with the original. There ought to be a name for that.
I switched my laptop to a solid-state drive this week (an Intel X25, after a Corsair drive flaked out during sleep mode). I'm not getting the full use out of it, because my BIOS doesn't support full SATA2 speeds without a hack that I'm a little scared to install, but the improvement I have seen is impressive--games, especially, load almost instantly, which has done a lot to move my spare time from the XBox to the PC. Given that CPU speeds have topped out, if you're looking to rejuvenate an aging laptop, this is probably the way to go.